While the MotoGP delivered a beautiful Portuguese Grand Prix, the WSBK celebrated its mass in the cathedral of Assen. A second stage of the calendar of the category after which the tenors will have to go to the confessional because in Holland there have been so many faults and low blows. Alvaro Bautista emerged victorious from this scrum even though he was sanctioned at one point, but the most important event was this collision between Jonathan Rea, now 100 wins with Kawasaki, and world champion Toprak Razgatlioglu who scored valuable points. ..
The cordial relationship based on mutual respect between Jonathan Rea And Toprak Razgatlioglu did it end up in a gravel pit in Assen last Sunday? The future will tell soon enough, but the two men have a radically different view of the race incident that pitted them against each other and caused their retirement, rejoicing in a Alvaro Bautista who hasn't asked for so much …
First, there are the pictures of the facts …
Then the versions of the hanging. Jonathan Rea She said : " I joined him on the straight and he braked 15 meters later than usual. He slowed to the curb and then took the turn. He was just going too fast. I took my normal line, Bautista was behind me. In such a situation in Assen, the outside rider usually gives way because other riders like us are coming at high speed ".
" I don't intend to introduce myself to the referee. I have not even received a request to go there. It was a racing fact ", followed Rea who left no doubts as to who was responsible for the accident: Toprak took a broad line, so he made the mistake. And instead of giving me space, knowing I would be there, he decided to get back on track. I was on the normal trajectory and was driving at my normal speed, everyone can see it in my data. I was also probably a little slower than usual. I expected to have enough space, but I didn't. Fortunately, we both survived unscathed ".
At the house of Yamahawe heard another version developed by the Turkish world champion: " I braked a little hard, I went wide, but I wasn't off the track. Then I returned to the ideal line. Johnny made a mistake by not looking at me, so we touched. A racing accident, of course, but Johnny paid no attention to my trajectory. He just looked at the line and accelerated early, but I was to the left of him and ahead of him. Tell Johnny to look at the fall again, from the perspective of my camera, not his. I was in front, I couldn't see it. I can't turn off the gas and look behind me, you don't do it in racing. I guess he wanted to push me out because I was already far away ".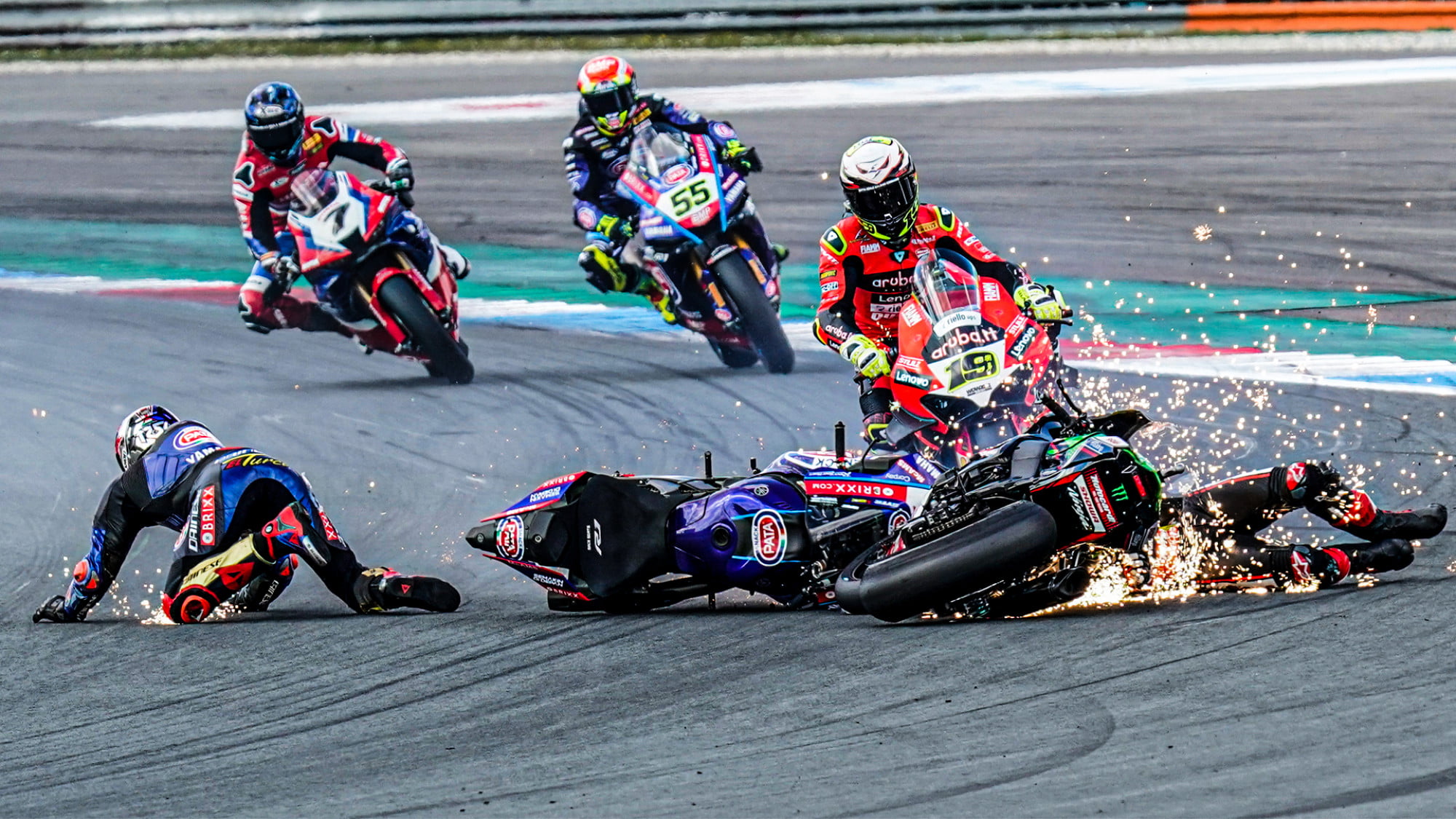 WSBK Razgatlioglu: better not talk to Rea for now, maybe later
" I haven't talked to him since the accident, he knows exactly what happened "said the pilot of 25 years. " It describes his point of view, I the reality. I looked at my camera footage ten times to figure out if it was my fault or his. Okay, it was a racing accident. But we only fell because he made a mistake. He has to keep an eye on me, I wasn't off the track. It's best if we don't talk to each other for now, maybe later. Last year, our fights were always respectful. Everyone is wrong. In the end we were lucky as we slipped on the straight. I was very worried about Bautista, he was right behind us ".
Exactly, Baptist, who was in the front row, what does it say? " It seemed to me that Toprak had gone a little further. He hit the curb but was not off the track. Jonathan was in and behind him. Jonathan ran on the ideal line, but Toprak ran on the same line. They both wanted to be in the same place at the same time. But there was no room for two riders and they touched each other. They have touched each other several times in the past and nothing has ever happened. This time it was different and it had to happen someday. Jonathan and Toprak's bikes slid in front of me, I braked harder and harder. Then suddenly a breach opened and I passed. Otherwise I would have hit the bikes. I was very lucky not to fall ".
Bautista also had his share of frustration in this Batavian encounter having been downgraded at the end of the sprint race for crossing the track limit during the last chicane on the Dutch track. Bautista then lost a place to Toprak, dropping to third place in the final standings of the race and losing two points overall. The Spaniard expressed his anger on social media by saying 'I have never touched the green' and calling the penalty received 'ridiculous' … The Spaniard Ducatista now leads the general classification Superbike with 109 points against 91 at Rea and 64 a Razgatlioglu.