This Sunday, April 24, 2022, Giovanni Zarco answered questions from journalists from the Autódromo Internacional do Algarve in Portimão after the Portuguese Grand Prix.
After taking pole position on Friday, the French driver had a very solid race, with a very good first corner and above all a good resistance to pressure, against Joan Mir, Jack Miller and then Aleix Espargaró. Only his compatriot seemed unreachable …
As usualwe report here the words of Giovanni Zarco without any formatting, even if partially translated (vouvoiement in English, you in French).
---
Giovanni Zarco : " I am clearly very happy because yesterday's pole position gave me a first notch of happiness yesterday and today the race was very good. I lost some time at the start but I could see that I was feeling pretty good on the brakes, so that gave me good confidence, and I immediately tried to make up for the lost positions. So when I passed Álex Márquez and then Jack Miller, I think that was the key moment of the race for me, because then third, I felt good behind Joan Mir, but not enough to think about taking Fabio. He was too strong, so it was better to stay behind Joan Mir and keep my focus behind him. Then when Jack Miller returned I was glad I made the decision to take second place, because I knew they crashed into each other, so maybe I avoided a big crash this way by being second. I too was a bit scared at the end, with Aleix Espargaró, because he's having fun in his career and I know he can be strong in the end. I was able to store enough energy to give a little extra push on the last lap, and that was enough to take the 20 points.. "
Do you think the European circuits are another phase of the championship and what do you expect in Jerez?
" Sorry because we are really affected by the crash (in Moto2). I really hope nobody gets hurt. It seems so and this is the most important thing.
I would say I disagree. I understand when you think of Europe as a new start to see who is strong and who has more problems in the races. But this season there are too many riders ready for the podium: this weekend too, in these conditions, I couldn't expect such a solid race. So I'm one of those guys who hopes to win and has a chance to win, or of course to get on the podium, and so that makes the championship very difficult for everyone. But here, the one who has really shown that he has the pace and who has recovered his leading position is Fabio! And he did it perfectly, but it's not quite like the start of Europe, it's just because we're here in Portimão where he did a fantastic race last year and now he's been able to do it again. Personally I take the positive and try to keep improving this feeling because the Ducati works well but sometimes it still needs to tackle everything. So when we, and I mean us because we are eight riders and we all count for Ducati, when we really exploit the potential well, I think we can put more Ducati in the head.. "
This is the second time we have seen a double French. What do you feel ?
" Sharing the podium with Fabio, and especially when it comes to a victory and a French second place, is very very nice! As I said, I'm happy to hear the French national anthem, but Fabio is always playing this French anthem and I'm just here to sing it (laughs). But it's better than nothing and it's a very nice moment, because as I said last year, we have ten years of difference with Fabio so to see a Frenchman win … I have to go back a notch, look at my situation and be happy for our country that does not have so many guys in front of it like in Spain. When it's a French victory, we have to appreciate it, and when I'm second I'm even happier. If he and I win maybe I'm 5th or 10th, I'm happy for him but very sad for me, but like today I can't be sad, also because if I only consider this day, it was incredible thanks to his pace, right from the first tour. Sometimes we have to accept when someone says "it's mine!" ". "
Do this double on election day in France. Will you ask the future president for a bonus for representing France in this way?
" Regarding politics, I think it is better not to talk about it. We will just follow this one like everyone else. "
Looking at the data of other Ducati riders, where do you need to improve to be a better rider this year?
" I'm trying to improve the braking because that's the Ducati's strong point, and last year Pecco was using it really very well. And I'm making progress in that area, which is good. But as you can see, it depends on the circuits – sometimes it's another driver who takes the lead and when analyzing the data it's next to nothing. But almost nothing for 15 corners, both at the end of the lap, and even more at the end of the race. But yeah, try to use the bike's strong point well, and when you get it, the results can come. "
Results of the Portuguese MotoGP Grand Prix at the Algarve International Circuit in Portimão: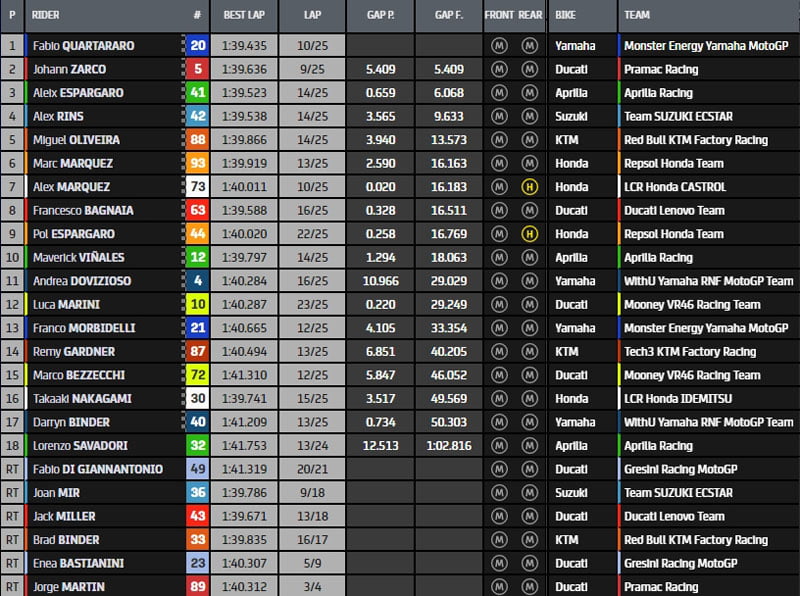 Credit in the ranking: MotoGP.com