Liu Genghong, a Taiwanese-born singer, has taken the internet by storm and unleashed a fitness wave with his live stream of his workouts on Douyin, the Chinese version of TikTok.
According to data analytics platform Chanmama, the singer's workouts have been so popular that they broke Douyin's live streaming record for 2022 so far.
In one month, Liu Genghong's live streams were viewed nearly 100 million times, with his most popular session attracting over 44 million live views.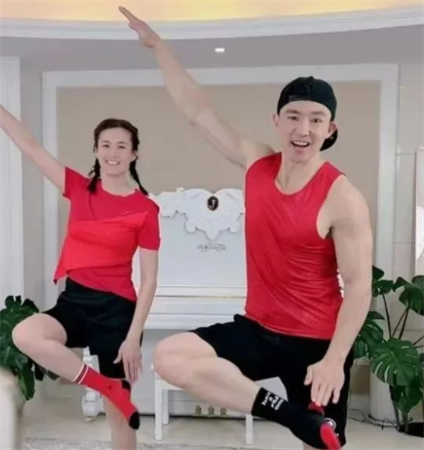 (Photo / Screenshot on Weibo)
The songs of Chinese musician Jay Chou often serve as background music for Liu Genghong. One of his most popular fitness workouts is set to "Herbalist Manual" from Jay Chou's "Still Fantasy" album. "I feel like kicking my leg every time I hear 'Herbalist's Handbook' now," shared one user.
Many netizens even joked that Liu Genghong, 49, entered a popularity contest with Li Jiaqi, the "Chinese king of livestreaming" known for his sales tactics. "Li Jiaqi empties our wallets, Liu Genghong empties our bodies," joked one netizen.
The online fitness industry has exploded in China since the start of the pandemic in 2020.
According to a report by Douyin, the number of fitness influencers with more than 10,000 fans surpassed 60,000 in December 2021. The number of fitness videos in 2021 increased by 134%, while subscribers to this content increased 208% from that. the previous year.
Many online platforms have tried to develop fitness content in recent years, which shows that the value of this discipline is recognized, said Huang Haidong, an expert on China's online fitness platform "Keep".
China has a huge potential market for fitness. According to a report by China Insights Consultancy, China will have 300 million fitness enthusiasts in 2021, ranking # 1 in the world. However, the average annual spend of fitness enthusiasts nationwide in 2021 was 2,596 yuan ($ 393), much less than $ 2,183.
"Regardless of whether the 'Liu Genghong phenomenon' will be short-lived or not, China's national fitness wave is set to evolve in the long term. To take advantage of this trend, online products and services should focus on user needs and create a better experience for them, "noted Huang Haidong.