One would have thought that fitness games would disappear at the same time as the Wii, or at least with the death of the superfluous Kinect 2, but strangely it was nothing. Wii U has had its fair share of fitness titles, and the Switch continues the same way. This year the releases have not been legions, but we still have the right to the appropriate name Knockout home fitness, which concretely aims to lose calories by reproducing the movements of different combat sports. Successful bet? This is what we will see.
Test Conditions: We included Knockout Home Fitness in a sports routine for four consecutive days.
Fitness, the ultimate goal?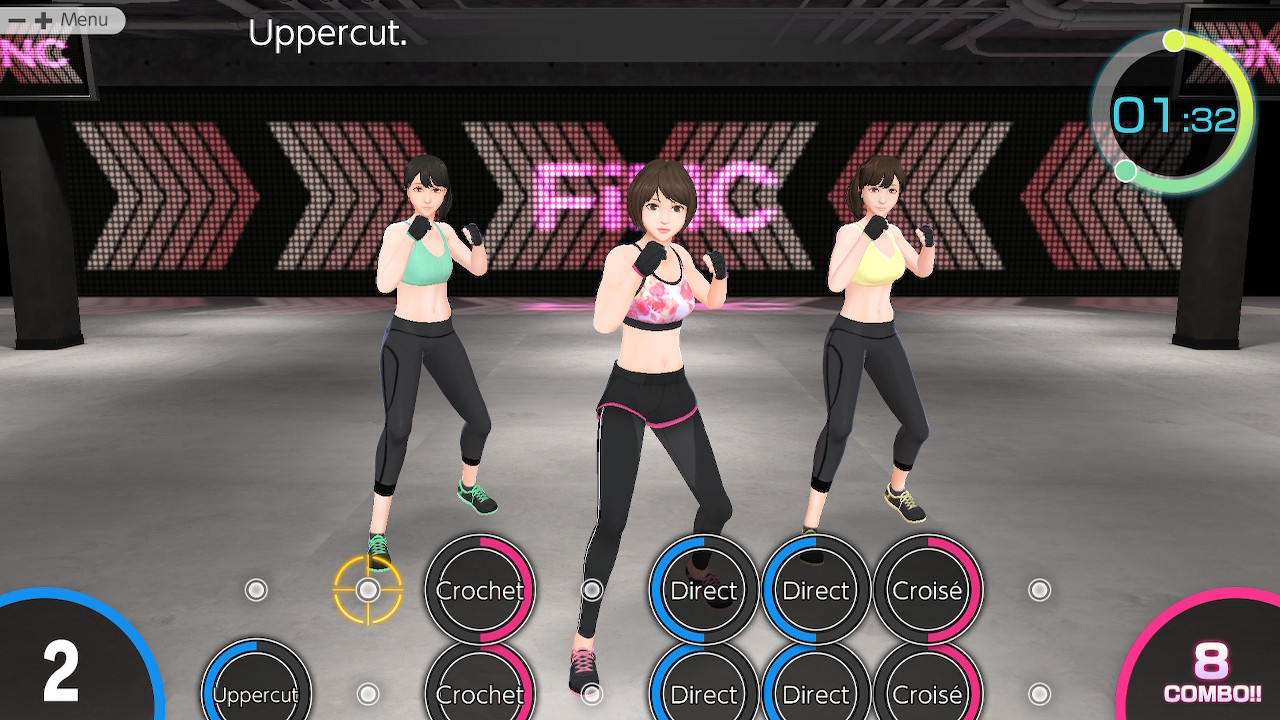 With the two confinements last year, and the long closure of the sports halls, we had to adapt. Some have gained weight, become unmotivated, while others have doubled their determination in running and exercising alone. Anyway, one of the solutions was video games. Many have turned Animal Crossing: New Horizons to escape the daily stress of the health crisis, while others have preferred to opt for fitness in front of their screen. So Fitness Boxing 2: rhythm and exercises it landed at just the right time last December, offering an experience we highly recommend.
This year it is therefore the turn of Knockout home fitness, which comes out in a much less favorable period, of course, but which nevertheless proposes a very similar formula. Simply put, get in shape with the illusion of learning fighting techniques. And it may sound silly, so said, but it is this playful capital that makes the difference. Also, permitting Fitness boxing first of the name to find its audience and also to function. Because you still need an iron will to return to sport, and even more without artifice to motivate yourself. And for some it's not about sticking to it in a group!
Let's be clear before we get to the heart of the matter, you will not learn any techniques karate or thai boxing training Knockout home fitness. Like the other two titles we mentioned above, this is just a question here return to sport in a fun way, and especially losing calories. You will then be able to work on your cardio, but also pull your upper body and legs a little. The aim will by no means be a bulging musculature. But if your goal is to lose weight or just take a supplement alongside other sporting activities, then you've come to the right place.
Fun enough to last?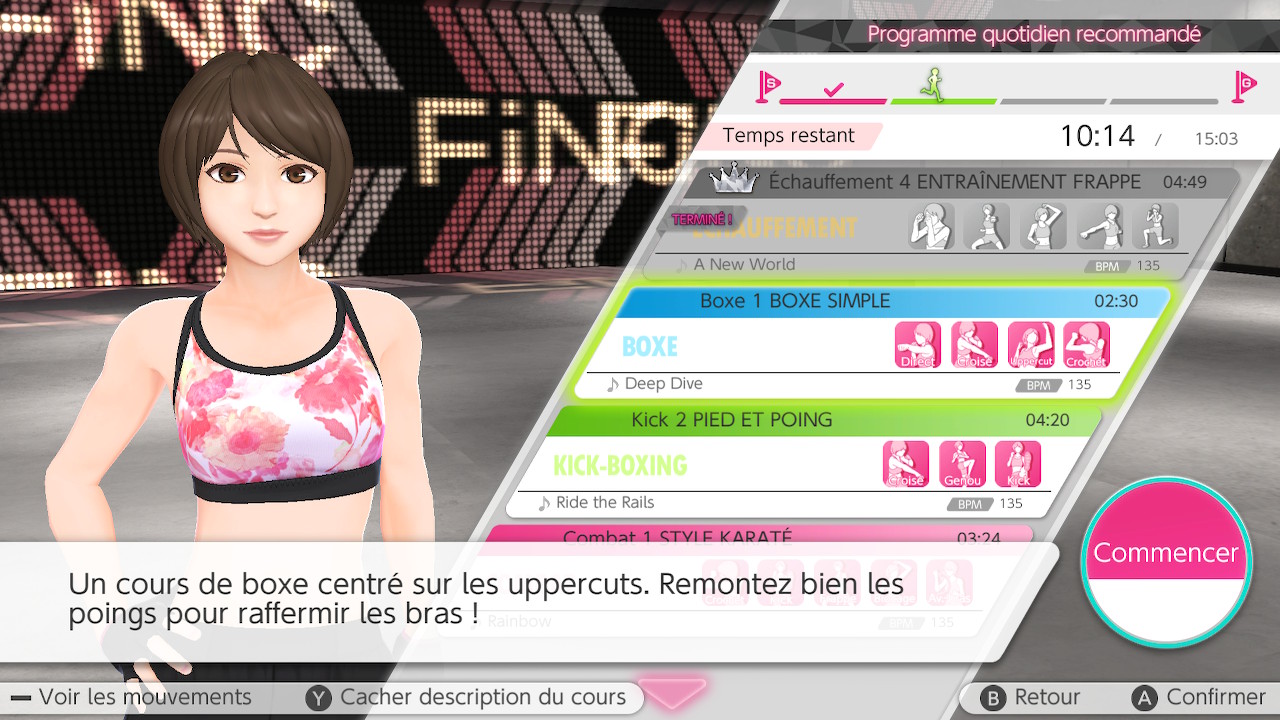 Compare Knockout home fitness to Boxing Fitness 2 it seems obvious to us, as much as what they propose in the background is similar. If the second focuses on boxing to make us sweat, the first touches a good dose of combat sports. What is quite interesting, even if it is not yet about learning to fight, is that the names of the exercises clearly tell us which discipline the blows we execute come from. Idem, it is possible, before launching them, to determine which areas of the body will be stressed.
On this subject, the exercises are quite numerous, and they offer a gentle slope at a relatively high level. In spite of everything, don't expect to come out of your workout on the verge of fainting right away (and somewhere it might be better that way), as the title dictates its own pace. Knockout home fitness it will not allow you to start any courses, as he calls these sports sessions, and will force you to unlock them one by one by completing the levels in order. What is valid in the mode 3 minutes of fitnesswhich allows you to practice in the course you prefer, but also in the modality Personal trainingwhich aims at daily practice for a period of between 10 and 30 minutes maximum.
Apartment for those who already practice exercises regularly, therefore, and who will have to start from scratch on the game before being able to access a level corresponding to him. However, for those who want to resume a sporting activity, it is ideal! It is not possible to do too much from the start, which allows time to realize its limits and find its own pace. This being the case, we would have appreciated that the Knockout home fitness allows us to choose our level the first time we launched it, precisely to be able to adapt our courses more quickly to our expectations.
Perfectible contents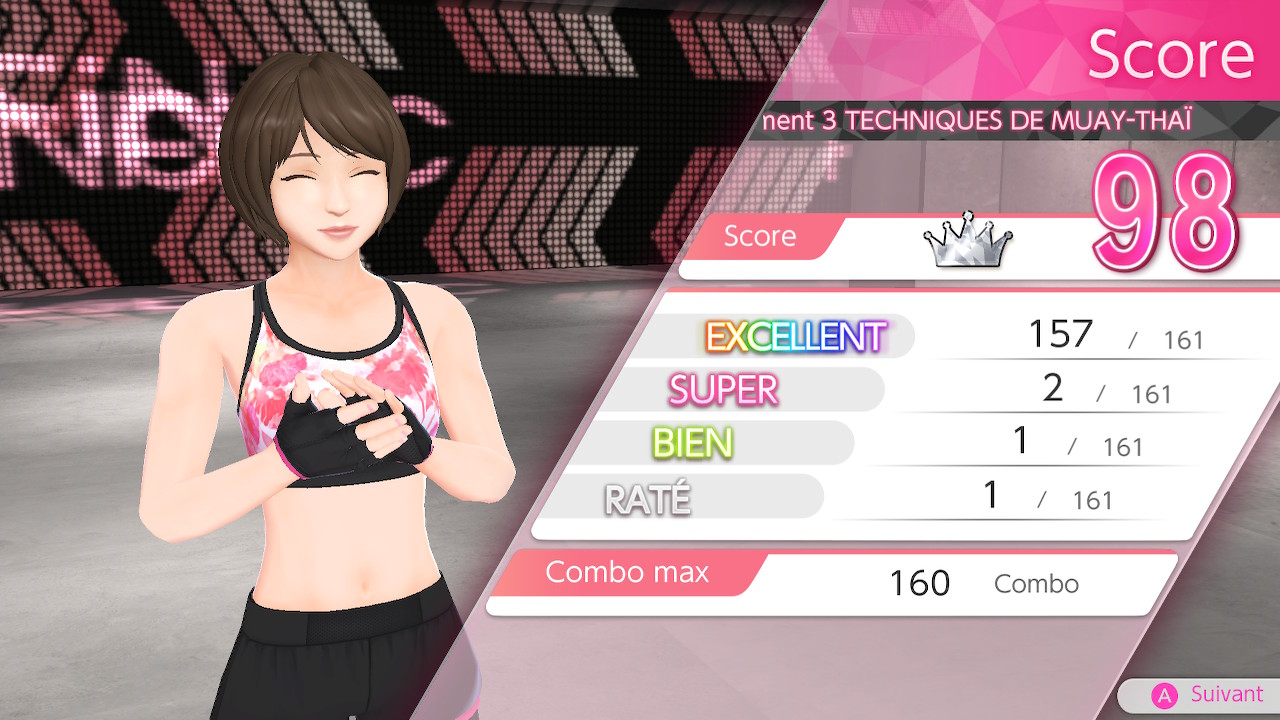 Yup Knockout home fitness offers pretty much the same thing as Boxing Fitness 2 in terms of the possibility of evolution, and that the courses are run more or less the same way, we regret the lack of frills, however. Sure, it is possible to work the lower and upper body quite completely, at least for such a game, but that's all there is to it. Where last December's game allowed us to switch coaches and unlock different outfits to dress them up, we're only entitled to four coaches, four rooms and barely a handful of music here. The main menu also looks very empty.
It is therefore about the content that we will have to complain. And on that alone, aside from that, the title is pretty solid. We are entitled to recognition of the movements that coffee makes. While it is still possible to do anything to validate our actions, it is much less common for the game to indicate failure when we have made a move correctly. Furthermore, the strong point of Knockout home fitnessthis is its full dubbing in French. It is difficult to judge the latter on its quality, given that we are facing a sports match. But we must admit that it is even more convenient for us to have the exercises explained in our native language, even if we are very comfortable in English.