Quinté + appetizers for this Wednesday 27 April
The forces present
true champion, CLEAN GAMES (16) obviously he shouldn't be condemned for his recent misstep in Vincennes. In his class, this gelding is perfectly equipped to overcome his initial handicap of 50 meters. To carry out his task, however, the resident of Jean-Michel Bazire will have to be waryEPSOM D'HERFRAIE (10)who just proved to Angers he can shine on the right-hand paths, eHANNA DES MOLLES (13), on the rise as evidenced by his recent third place in Vincennes in the Prix Henri Levesque (Gr2). In sight in the stages of Amiens (third) and Reims (fifth), EIRE OF HELIUM (7) will also have supporters with FREYJA-DU-PONT (9), capable of shining if it jumps on the right leg. Winner of the Reims stage, GIROLAMO (1) have a chance for a seat with FAWLEY BUISSONAY (4)in excellent shape, e CHENU DREAMER (8)running close.
Equidia Redaction's prediction
| | | | | | | | |
| --- | --- | --- | --- | --- | --- | --- | --- |
| 16 | 10 | 13 | 7 | 9 | 1 | 4 | 8 |
| CLEAN GAMES | EPSOM D'HERFRAIE | HANNA DES MOLLES | EIRE OF HELIUM | FREYJA DU PONT | GIROLAMO | FAWLEY BUISSONAY | DREAMER CHENU |
The starters in detail and the opinion of the professionals
In Antoine Lhérété's pits since February, this son of Uriel Speed ​​satisfied his new mentor on 13 April by winning the stage in Reims. Even though the lot is higher here, a place remains close at hand.
Antoine Lhérété, coach and driver:
"Girolamo (1) recovered very well from the victory in the GNT stage in Reims. The pitch is stronger this time, but we are confident we can still do well. I prefer it when it runs for the economy, so it will be a matter of running the race. He can confirm his good shape by taking a seat. "
Immediately noticed on the front lines, this Denis Brossard representative was not unworthy in the Salon-de-Provence stage, only narrowly failing for fifth place. Faced with the toughest opposition on Wednesday, his job doesn't seem easy.
Denis Brossard, coach:
"From the height of his 10 years, Campione Mio (2) is still in good shape. He will still do the best of him. He is excluded for the podium, but I am not negative for a fifth place, at the end of a favorable path. "
After two wise return races, this son of Ricimer created a surprise on the 30th March stage in Salon-de-Provence by finishing fifth with more than 80/1. Again, he will try to shuffle the cards.
Maxime Busset, coach:
"Dixit Danica (3) still had to race in Salon-de-Provence. I was very happy with his fifth place. The horse is in good physical condition in this attempt, but we will have to face very tough opponents on Wednesday. On paper, if he is fifth, he will have done well. "
In excellent shape, this resident of Jean-Marie Monclin found only Kennedy to stand in his way of recent success on the 2,700m of the great Vincennes track. Bravo right-handed, a confirmation of him cannot be ruled out.
Jean-Marie Monclin, trainer:
"Fawley Buissonay (4) is a great horse. While he doesn't win often, he gives us satisfaction with some great places to his credit. In the GNT stages the opposition is always tough, but my horse is in good shape and will give his best anyway. With a favorable course, he can play a good role. "
After a good effort in the last corner, this daughter of Un Mec d'Héripré got stuck a bit to finish in the stage of 13 April in Reims, failing at the gates of Quinté + (sixth). In this lot, she will mainly interest lovers of strangers.
Adrien Pereira, coach:
"Flower By Magalou (5) was in heat in the GNT phase in Reims. She is no longer under the influence of her sex and should therefore be much more toned. It will be necessary, because here he attacks with a strong side. Judging by her good third place in Laval, in mid-March, she can claim a place at the end of the combination. "
Despite a good final effort, this Jasmin de Flore son couldn't be really threatening recently in the Reims stage. He had done better in March, in the first game of this tournament, finishing fifth in Amiens. For a surprise.
Hugues Levesque, coach:
"Even though he only finished seventh, Favorite of Iton (6) reassured us in Reims on April 13th. The opposition is strong this Wednesday, but with a good performance of the race it should not be neglected for a fourth or fifth place. "
Victorious at the end of February in Vincennes, this resident of Franck Harel confirmed her form by conquering respectively the third and fifth place in the stages of Amiens and Reims. On his way, he should still take an active part in the finish.
Francois Lagadeuc, driver:
"Eire d'Helios (7) once again produced a superb performance in Reims as we were a long way off at the start of the straight. She is a chic mare who gives it all. The field is well composed this Wednesday, but with a good away game we will still have to count for places. "
Not the happiest last Friday in Vincennes in the Prix Alètheia, this representative of Jean-Michel Baudouin will race nearby. Although he has recovered well from his efforts of him, he is not barred from a place at the end of the combination.
Louis Baudouin, son of the coach:
"With Dreamer de Chenu (8), it is imperative to preserve its final acceleration as much as possible. At the end of a distance to the millimeter, it can grab a small spot at the end of the Quinté + combination. "
Although she has disappointed since the beginning of the year, this resident of Nicolas Bazire has no less serious means. As proof, his third place on December 5 in the GNT final behind Cleangame (16). Wise at first, he can aim for a good ranking.
Nicolas Bazire, coach and driver:
"Freyja du Pont (9) galloped off in Vincennes on 22 April. She then she had a complicated journey. Since then she has only taken walks. With her, everything will still be a matter of wisdom while warming up. The real Freyja du Pont would have the means to fight for places in this Quinté +. "
On the podium of his last two outings in Vincennes and Angers, this Rieussec son scores 18 wins in 34 public attempts. Entrusted once again to the good care of Éric Raffin, he should once again sell his possibilities in this field at a high price.
Louis Baudouin, son of the coach:
"Epsom d'Herfraie (10) now prefers to run in a less offensive way. If kept in the first part of the route, he is then able to provide a very good last mile. We made this race a milestone. Hopefully, he should be on the podium. "
Runner-up in Farah des Caux in the first stop in Amiens, this resident of Stéphane Meunier did not benefit from the best course in Salon-de-Provence. If things get better this time, he can take a seat.
Franck Ouvrie, driver:
"Django du Bocage (11) is back in shape. His second place on 9 March in Amiens, with Pierre-Yves Verva, was very good. In the Salon-de-Provence stage, he was unable to take advantage of a route that suited him. I find it sulky with claims for a fourth or fifth place. "
On the sidelines since July 2021, this new resident of Yann Docquin could not play the slightest role for his reappearance, on April 17, on the grass track of Ecommoy. Undoubtedly still far from his best level, he will remain shod here. Without us.
Yann Docquin, trainer:
"Colonel Bond (12) has just returned to the race on Ecommoy's grass. He will still have to run to get back in shape. Faced with such rivals, we have little ambition. You just have to watch it run. "
After a four-month absence and a dutiful return to school in late March, this 5-year-old has just shown a marked recovery by finishing third in Group 2 at Vincennes, against his peers. Well engaged, he has resources to plead against his elders.
Alexandre Abrivard, driver:
"Hanna des Molles (13) gave us full satisfaction with her third place in Group II on April 16th in Vincennes. It was only her second race after a long absence and even if she is in good shape in the morning, this outing will have done her good. Thereafter, this commitment comes at the right time. The change of track should please him, because he is a good right-handed. I am optimistic for the podium. "
Specialist in horse trotting, this son of Nahar de Béval will be shod at the beginning of this Quinté +. At 50 meters, his task seems very delicate in this Quinté +. Impasse recommended.
Nicolas Bazire, son of the coach:
"Chalimar de Guez (14) takes his mind off the hitch this Wednesday. With his irons and in the third echelon, you can ignore his chances. "
This daughter of Kénor de Cossé is part of the elite in the saddle, but has much less reference to riding. Closed and forced to start from the third step, her chances seem slim.
Charles Dreux, coach and driver:
"Etoile de Bruyere (15) will take advantage of this commitment to change his mind about mating. Trained and at the third level, she will be content to maintain her good physical condition. You can exclude it from your games. "
A true champion, this gelding trained by Jean-Michel Bazire should obviously not be condemned for his recent misstep in Vincennes. In his class he has the means to overcome his initial handicap of 50 meters.
Nicolas Bazire, son of the coach:
"Cleangame (16) did a good last job this Sunday morning. Of course, it's never easy to get back to 50 meters. That said, his form is optimal and he will still have to deal with him. "
Favorite rewards
SUMMARY 16 – 13 – 10 – 1 – 4 – 7 – 8 – 9
Statistics today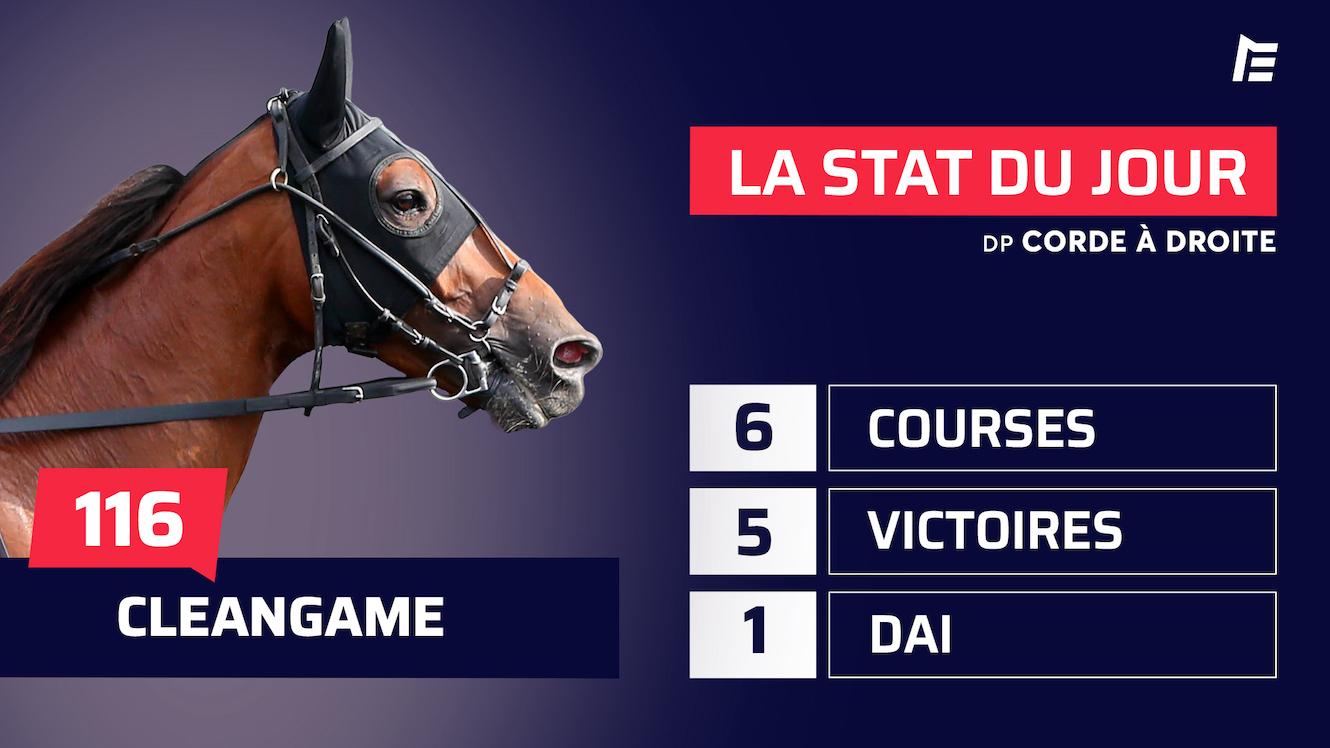 The forecast in 3 minutes